Ghost in the Shell
PG-13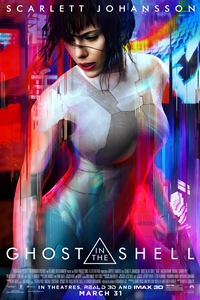 play trailer
▶


Play Trailer
Based on the internationally-acclaimed sci-fi property, "Ghost in the Shell" follows Major, a one-of-a-kind human-cyborg hybrid, who leads the elite task force Section 9. Devoted to stopping the most dangerous criminals and extremists, Section 9 is faced with an enemy whose singular goal is to wipe out Hanka Robotic's advancements in cyber technology.
DetailsSciFi/Fantasy , Action/Adventure
1 hr. 46 min.
Opened March 31st, 2017
Rated PG-13 for intense sequences of sci-fi violence, suggestive content and some disturbing imagesCastScarlett Johansson, Pilou Asbaek, Takeshi Kitano, Juliette Binoche, Michael PittDirectorRupert SandersWriterJamie Moss
Masamune Shirow
Today's Showtimes
No showtimes available
on this date.